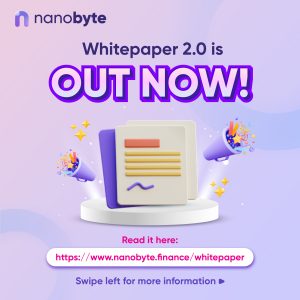 Dear #NanoByteSquad
After months of planning and execution, we have finally released our second Whitepaper. Please find the Whitepaper on the link below.
https://www.nanobyte.finance/wp-content/uploads/2023/04/NanoByte-White-Paper-v2.0-final-version.pdf
To sum up our future plans and offerings, we have attached our Whitepaper 2.0 video below.
We would like to thank everyone for supporting us thus far, and we are very optimistic about NanoByte's future.
Theo, On Behalf of NanoByte Team
---